Apple Repair Shop In Daytona Beach Specializing in Mac & PC Computers
Here in our Apple Repair Shop, we refurbish and sell the MacBook, MacBook Air, MacBook Pro, iMac, Mac Mini, Mac Studio, and the Mac Pro. Our inventory changes frequently. When we get a Mac ready to sell, they don't last long. If you are looking for a specific Apple Computer, contact us and we will try to source one for you. All our refurbished Mac's come with a standard six month warranty, and free lifetime monitoring. We are the only local Apple Repair Shop in Daytona Beach, and if you currently have a Mac or Apple laptop, we may be able to fix yours, without having to get a replacement Apple computer.
MacBook Logic Board Repair
We use soldering and hot air rework tools to fix and replace components that not even the Apple Retail Store can do. How is this possible? We are NOT an authorized Apple Store or Apple Authorized Service Provider (AASP) meaning we do not have to abide by any Apple contracts.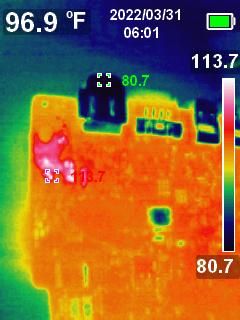 Advanced Diagnostics
We use thermal imaging to quickly and accurately track down a short in your Apple Logic Board. Once a short is found, we replace the component causing the short.
Motherboard Reflow
Other repair shops rely on us to fix complex problems that they are unable to diagnose. One customer came to us saying "The other shop told us we need to replace the entire motherboard for $600". This is simply not the case. We replaced a capacitor on a motherboard and with our labor, everything came out to less then $97. This is because the other repair shops work off of replacing things. Sure replacing the motherboard would have fixed this customers issue, but for an insane amount of money.
On Site Repairs
99.9% of all repairs are done in our shop.
Advanced Diagnostics
We use thermal imaging to detect shorts faster.
X Apple & Dell Employee
The owner has worked for Apple & Dell.
Tools & Training
We pay to use the very best and latest tools and training.
We are the only Specialized Apple Repair Shop in Daytona Beach, and all of central Florida. No need to drive to the Apple Store in Orlando, Altamonte Springs, or Jacksonville.
Same Day Appointments Available
We DO NOT Repair iPhones, iPads, or the Apple Watch
We Also Do
PC Computer Repair

Board Repair,

Soldering,

Key FOB,

Graphics Card Repair
How Does This Work?
Have questions about prices? How long will it take to repair my device? Can you fix my device while I wait?
Screen De-lamination
If you have a MacBook, MacBook Air, or MacBook Pro has a screen that looks like the one in the picture, then your Mac is suffering from what is called Staingate. Staingate is where the lamination of the screen is coming up. We are able to remove the lamination to make your screen look like new again. Click here to learn more. Call or text us: (386) 246-8846. We are the only Apple Repair shop in Daytona Beach and all of Central Florida that specializes in removing the screen lamination rather than having to replace the screen, which can be costly, and uneccessary.
We are an independent Apple Repair Shop
MacBook, MacBook Air, and MacBook Pro Battery Replacement
Is your Apple Laptop in need of repair? Replacing your MacBook or MacBook Pro battery is one of the most comming repairs that we see in our repair shop. If your Apple Laptop is displaying the words "Service Recommended" or "Service Battery", the chances are your battery needs to be replaced. Most prices of an Apple Laptop battery range in price, but they often range $50 to $100, plus the cost of labor. Contact us today for a free quote, please have your serial number ready.
Find out how much it costs to repair your Mac, see some of our work, or learn how the repair process works.
MacBook, MacBook Pro, MacBook Air, iMac, iMac Pro, Mac Studio, and Mac Pro, are registered trademarks of Apple, Inc. Bit Tek Solutions is an independent service company which is NOT affiliated with Apple Inc. If your Apple device is still within warranty, we recommend that you find the nearest Apple Store. At this time, there are no Apple Direct or Apple Authorized Service Centers within Daytona Beach, however, Bit Tek Solutions would be more then happy to assist you for a nominal fee.
Apple Computer Repair Shop Specializing in all Mac Computers such as MacBook, MacBook Pro, Mac Pro, iMac, iMac Pro, Mac Mini, Mac Studio Repair in Daytona Beach, Ormond Beach, New Smyrna Beach, Ponce Inlet, Edgewater, DeLand, Flagler Beach, Palm Coast, Bunnell, Samsula, Crecent City